Here We Grow Again! Kormans LLP Prepares to Open Their Toronto Office
By sedoo
Driving along Bathurst Street, you have likely spotted some new signage. Seemingly overnight, your Real Estate & Corporate Lawyers have a Toronto office??? YES! It's True 😊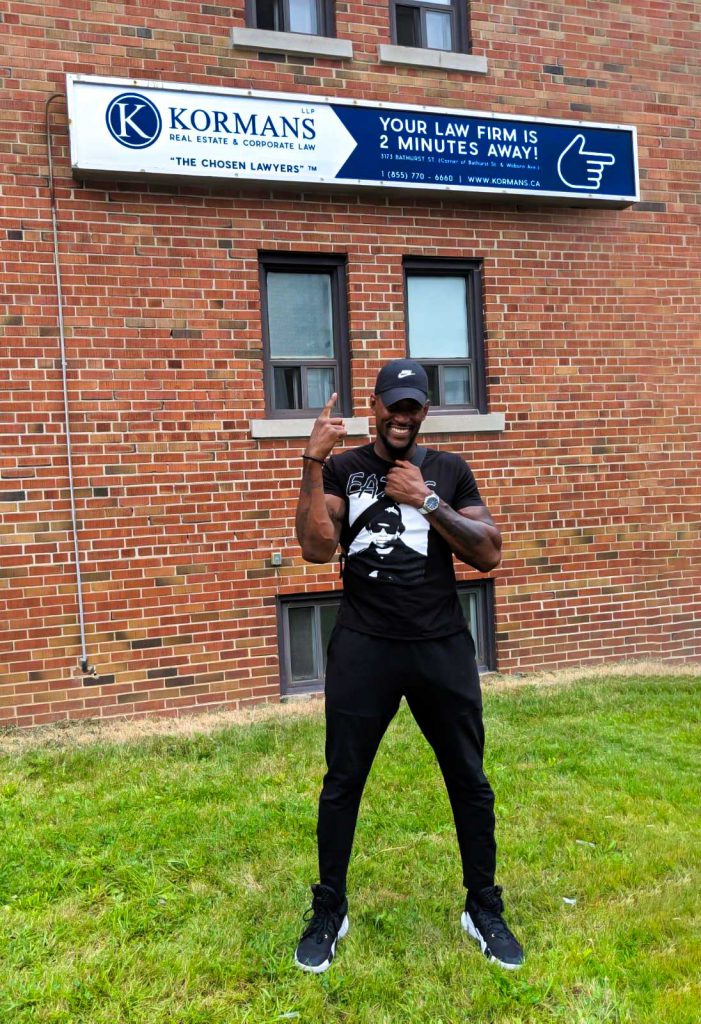 Boxing & MMA Trainer Todd from @BlackHulkNation spots one of our new signs with joy!
Kormans LLP can trace its roots to over 40 years in existence as a law firm. Our practice started in Mississauga and continues to maintain its head office there. You can find us conveniently located close to Square One Shopping Centre!
From there, Kormans opened its second full-time location in Markham. This year we moved to a larger Markham office to better meet the needs of our York region clients. Both Mississauga and Markham are two of the fastest growing cities in Canada, and we are proud to have a foundation in both regions!
Now, in a very short time period, Kormans LLP is proud to open its latest office. This time in the center of Canada:  Toronto! As seen in the above photograph, when you drive in the Bathurst & Wilson area, you will find that you are minutes away from reaching your law firm. Our Toronto office is conveniently located at 3173 Bathurst Street, at the corner of Bathurst Street and Woburn Avenue. There is plenty of free parking in the area and we are very close to the 401 Highway and public transit.
Want to learn more about Kormans' Toronto office? Check out the link below to a feature article on our snazzy new home: https://signsourcesolution.com/we-do-lawyer-signs-kormans-llp-gets-new-exterior-business-signs/
When you think of Real Estate & Corporate Law, remember the name: Kormans LLP. Our team of lawyers is readily available to assist you! Whether you are looking to close a house or condominium transaction, refinance, open a business, incorporate, prepare a shareholder agreement or even wills and powers of attorneys, our team of professional and experienced lawyers are ready to guide you from A to Z. With several locations now to choose from, we look forward to working with you!
Remember, when it's time to choose a lawyer:  Contact "The Chosen Lawyers" ™!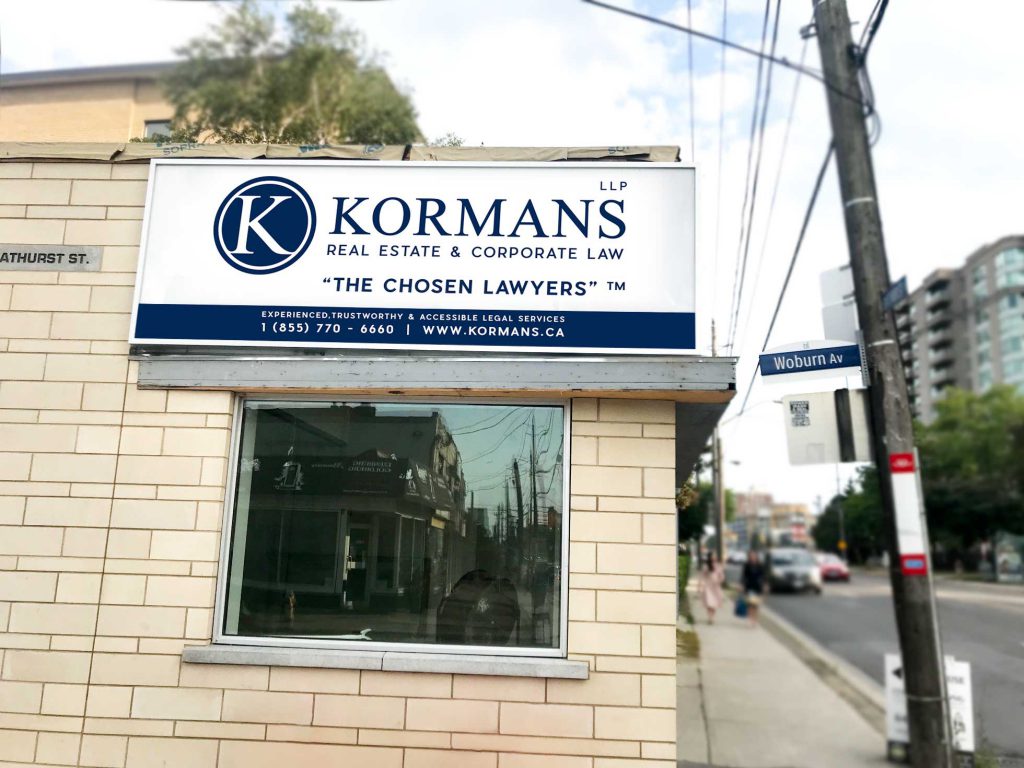 Please feel free to fill out our contact form and one of our lawyers will get back to you shortly. We also encourage you to sign up for our newsletter - and receive an update as soon as the latest blog entry is posted.
Thank you for visiting Kormans.ca and be sure to check back often. Please bookmark our site. Tell your friends and family. We look forward to working with you and having you join our legal family!
Join our newsletter and don't miss out on a blog post!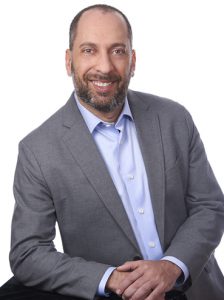 Jonathan Hacohen is a Partner at Kormans LLP. His practice areas include Real Estate & Corporate Law, as well as Wills/Estates law. You can reach Jonathan at jhacohen@kormans.ca.
All blog entries are for your reading pleasure only and are not posted to provide legal advice. For your matter, we encourage you to consult with a lawyer to review and discuss your specific facts and circumstances. Kormans LLP cannot be responsible for the content of other sites. We expressly disclaim all liability with respect to actions taken or actions not taken based on content received from a third party website linked, directly or indirectly, to that of Kormans LLP.  The link to another site is not to be construed in any way as an endorsement of the host, the site or the information contained therein, nor is such link to be inferred as an association or affiliation with the host.