Changes to the Legal Practice as a Result of COVID-19
By Kormans LLP
The on-going COVID-19 pandemic has affected the day-to-day activities of businesses around the globe like nothing before. These are unprecedented times and the impact of this unforeseen pandemic on the legal sector is no different.
In order to combat COVID-19 and to further emphasize the need for social-distancing, on March 23rd, 2020, the Government of Ontario initially released a list of 'essential services' that are allowed to continue to operate under the current environment while any services which were not specifically mentioned on this list were required to halt public operations for at least 14 days. A revised list, with further reductions was released on April 3rd, 2020.
Professional services that support the legal and justice system; residential construction projects that fall under a specific criteria; financial services including but not limited to banks; land registry offices; and real estate agent services are all included in both versions of the 'essential services' list published by the Government of Ontario.
As such, our offices remain open and operational at this time albeit under restricted basis described in here in further detail.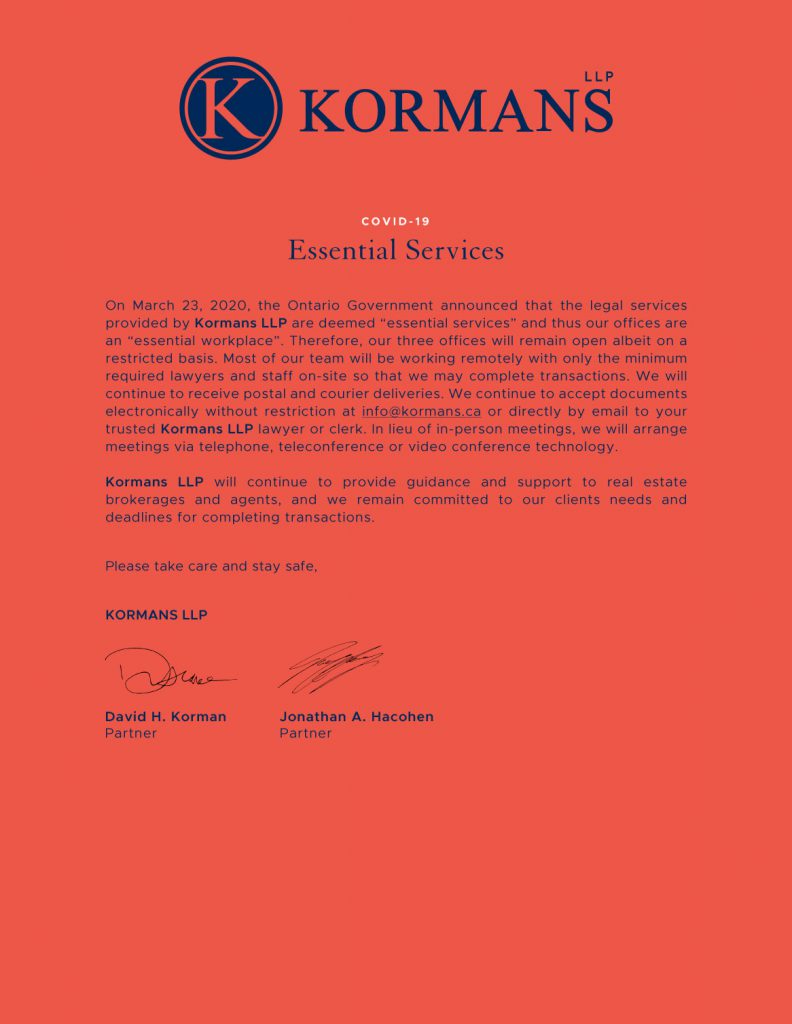 Firm and valid contracts signed by different parties are still binding. While inclusion on the 'essential services' list allows the real estate legal sector to continue to operate, the reality of the situation does present some practical challenges. As such, it is proposed that parties on all sides of a contract be a little more considerate and compassionate in their actions.
Documents may be signed electronically via video-conference instead of via in-person meetings provided the proper safeguards for client identification and a detailed checklist for detection of undue influence are being utilized. In addition, to prevent risk of exposure from exchange of physical documents, paperless closings are also being encouraged within the guidelines of the Electronic Commerce Act, 2000, S.O.2000, c.17
In order to limit trips to the bank for clients and office staff, all parties are encouraged to wire or provide funds via electronic-transfer as much as possible.
Purchasing title insurance is something that is quite common in real estate transactions. (http://www.kormans.ca/title-insurance-policies-and-their-premiums/) Under the current circumstances, parties are encouraged to obtain title insurance which provide 'gap coverage' to ensure their title is protected from fraud as much as possible.
In the event one of the parties to a contract is subject to the COVID-19 mandatory quarantine guidelines, the other party to the contract is encouraged to act in good faith and grant an extension to the quarantined party while imposing little to no penalties, if it is reasonable to do so.
Please feel free to contact one of our lawyers should you have questions about your legal matters in these fast-changing times.
Most importantly, please stay safe and exercise caution by following the recommended guidelines of governmental authorities as much as possible!
Join our newsletter and don't miss out on a blog post!
Taimoor Qureshi is an Associate Lawyer with Kormans LLP.  You can reach Taimoor at tqureshi@kormans.ca All blog entries are for your reading pleasure only and are not posted to provide legal advice. For your matter, we encourage you to consult with a lawyer to review and discuss your specific facts and circumstances.

The information and comments herein are for the general information of the reader and are not intended as advice or opinion to be relied upon in relation to any particular circumstances. For particular application of the law to specific situations, the reader should seek professional advice.

Kormans LLP cannot be responsible for the content of other sites. We expressly disclaim all liability with respect to actions taken or actions not taken based on content received from a third party website linked, directly or indirectly, to that of Kormans LLP.  The link to another site is not to be construed in any way as an endorsement of the host, the site or the information contained therein, nor is such link to be inferred as an association or affiliation with the host.